household cleaners - multipurpose cleaners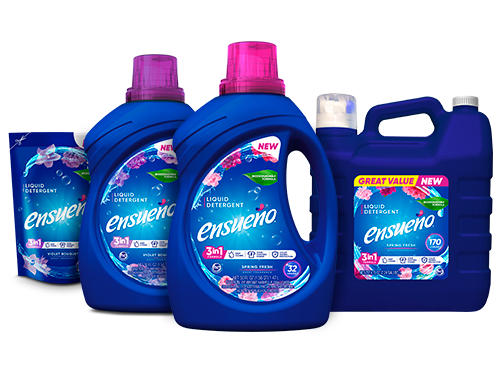 Ensueño Liquid Detergent®
Ensueño® Liquid Detergent delivers clean you can count on. This 3-in-1 formula offers stain-fighting power, deep clean and color-fading protection. Available in two scents that complement Ensueño Max fabric softeners and dryer sheets, giving you loads of freshness every time.
Sizes: 13.5 Fl Oz, 50 Fl Oz, 100 Fl Oz, 8.5 L
Scents: Spring Fresh, Violet Bouquet
ingredients
Ensueño Liquid Detergent®
Spring Fresh
Ensueño Liquid Detergent®
Violet Bouquet
---
Water, Sodium Lauryl Ether Sulfate, Dodecylbenzenesulfonic acid, Quaternary ammonium compounds, C12-18-alkyl(hydroxyethyl)dimethyl,chlorides, Ethoxilated Alcohols C12-16, Sodium laurate, Sodium Oleate, N-Octyl-2-Pyrrolidone, Fragrance*, N-butil-1,2-benzisotiazolin-3-ona, Citric acid, Sodium chloride, Sodium hydroxide DL – CA Non-Cancer Hazards, Sodium carbonate, colorant
*Contains fragrance allergens.