household cleaners - multipurpose cleaners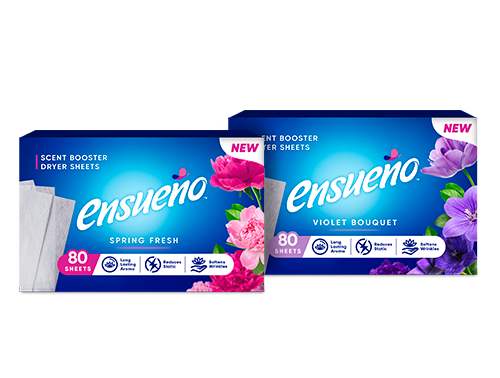 Dryer Sheets®
Ensueño® Scent Booster Dryer Sheets leave clothes soft and fresh right out of the dryer. Our dryer sheets reduce wrinkles and static while providing a boost of long-lasting aroma. Available in two scents to complement your Ensueño® fabric softener and detergent.
Long-lasting aroma

Reduces static

Softens wrinkles
Sizes: 80 Ct, 200 Ct
Scents: Spring Fresh, Violet Bouquet
ingredients
Dryer Sheets®
Spring Fresh
Dryer Sheets®
Violet Bouquet
---
Non-woven polyester, 1,2,3-Propanetricarboxylic acid, 2-hydroxy, Sodium Chlorite, Ethanaminium, 2-hydroxy-N, N-bis (2-hydroxethyl)-N-methyl-esters with C16-18 and C18 – unsatd. Fatty acids, ME sulfates , Fragrance.